Text
The Vanuatu Meteorology and Geo-hazards Department  (VMGD) has received new climate prediction tools from the Secretariat of the Pacific Regional Environment Programme (SPREP) to enhance capacity to tailor seasonal climate forecasts and climate information to meet sectoral users and communities.
The new tools includes the Pacific Island Climate Advanced Seasonal Outlook (PICASO) and Climate ToolKIT for the Pacific or CLIK℗. CLIKⓟ aids users in retrieving and using climate prediction data and information available from the data server at SPREP. It provides pacific oriented information using the multi model dynamical seasonal forecast based on different combinations of the user's preference. As the forecasts are combined with the past performance of each forecast generated, climate forecasters, disaster managers, water resource managers, researchers, and other users in the Pacific, can use this service to generate customised climate predictions on seasonal to inter-annual timescales for their region of interest. 
CLIK℗ is supported by PICASO (Pacific Islands Climate Advanced Seasonal Outlook), a tool that allows VMGD to utilise the Multi-Model Ensemble data to generate tailored and localised forecasts for each province or station.
"This training came at a very significant time for the climate team as we have just completed the seconded National Climate Outlook Forum with specific focus on Climate Services to the Health Sector and the signing of the MOU for Data sharing. The direction and the pace at which VMGD – Climate division is taking on developing sector specific products and services as reflected in the Vanuatu Framework for Climate Services as well as the Global Framework for Climate Services, this training is almost like a catalyst that has accelerated the teams capacity to generate and present seasonal climate outlooks using both statistical and dynamical models. As well as help the climate officers gain more understanding and more confidence to present the seasonal outlooks to the general public" said Ms Melinda Natapei, Manager, Climate Services, Vanuatu Meteorology and Geo-hazards Department.
"Through the ROK-PI CliPS project, funded by the Republic of Korea government, the APEC Climate
Center and SPREP made efforts to improve the overall capacity of the Pacific Islands to generate high quality climate forecasts, which can help in preparing for extreme climate events such as droughts and tropical cyclones" said Ms Natapei
"Highly skilled climate predictions can provide Pacific Island governments with valuable time to manage drinking water, provide early warning for farmers, and prepare for potential tropical cyclones" said Mr Sunny Seuseu, Climate Prediction Services Coordinator, SPREP.
"I am extremely pleased to see more than 12 technical staff from VMGD improve their knowledge and applications of these new tools in their work and allow them to tailor sector-specific information to support decision making in Health, Agriculture, Water and many other sectors affected by climate change" said Mr Seuseu.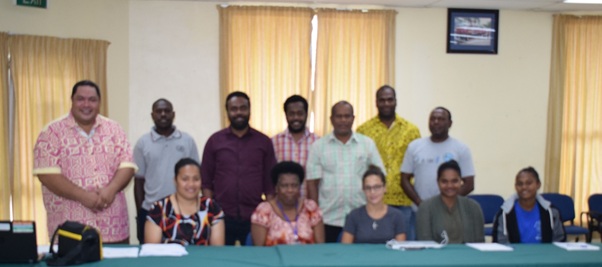 Participants of the Vanuatu In-country PICASO, CLIK℗ and SCOPIC Training, 27-31st October 2017