Text
Samoa is now able to access the image data from the most recent generation of geostationary meteorological satellites. 15 September 2017 marked the official handing over of the HimwariCast equipment to the Government of Samoa through the Ministry of Natural Resources and Environment.
The new generation of geostationary satellites started with the launch of Himawari8 on 7 October 2014 and is now operational at an altitude of 36,000 kilometers above the equator at 140.5 Degrees Longitude East, just north of Papua New Guinea. Himawari8 will enhance observation capability to help Samoa as well as other Pacific island countries in their continuous effort to improve early warning systems and to better observe, detect, monitor and track tropical cyclones, extra-tropical storms, severe convective systems and volcanic ash clouds.
However, the new capabilities bring both benefits and challenges. The benefits include improving the performance of Samoa's Meteorology Division in a variety of areas, including weather forecasting, climate monitoring, disaster risk reduction and transport safety. The challenges include the massive data volumes conflicting with limited internet bandwidth, making the use of internet cloud service impracticable. Recognizing this challenge, the Japan Meteorological Agency decided to complement internet access with a satellite-based distribution system, using commercial telecommunication satellite and low-cost Digital Video Broadcasting – Satellite (DVB-S) reception technology.
The Japan Meteorological Agency and the World Meteorological Organization (WMO) initiated a project to install HimawariCast receiving and processing systems in the National Meteorological and Hydrological Services of seven Pacific island countries (Federated States of Micronesia, Kiribati, Palau, Papua New Guinea, Samoa, Tonga and Tuvalu) and seven countries in Asia (Bangladesh, Cambodia, Mongolia, Myanmar, Nepal, Thailand and Vietnam). WMO selected Oriental Electronics, Inc. (ORI) to implement the project in these countries.
Samoa's HamawariCast receiving and processing systems were installed and became operational at the Samoa Meteorology Division, by Oriental Electronics, Inc. in June 2017. Capacity development will be crucial for a successful operation of the new satellite system. JMA and WMO will assist Samoa's Meteorology Division's staff with the sustainable operation of HimawariCast systems.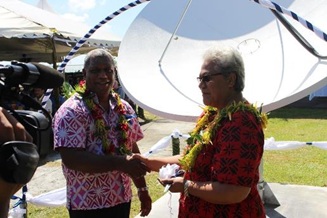 Mr Henry Taiki, WMO Representative Official Handed Over HimawariCast Equipment to the Government of Samoa.
Photo Credit: Ms Siosinamele Lui, SPREP